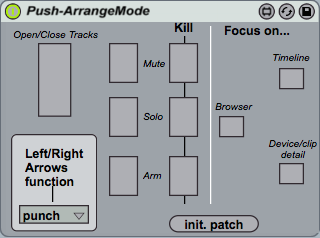 This device gives your Push its missing Arrangement Mode (plus a few extra bonuses).
It doesn't interfere with other Push's modes, it just adds a new one.
The device mainly works on a « selected track » basis. Ultimately, the main goal of this patch is to use your mouse less, because for a lot of tasks this thing actually is… quite slow.
You'll need at least Live 9.1.3 and Max 6.1.7 if you want everything functions of this device to work as excpected.
So, what does this device do (that means nothing is removed from Push's default behaviour) ? :
– Solo, mute arm the selected track, and unsolo, unmute and unarm all the tracks.
– Zoom tracks vertically, navigate between them, and zoom the arrangement horizontally.
– There's also a button to open/close the tracks (that's an alternative to the vertical zoom).
– Adds an option to activate/deactivate a clip and turn on/off its warp form the Clip mode.
– Close and focus the various part of Live's window (like the Browser, the detail clip/device view…)
– Control the Global Record with the record button (why this one is not in the default factory Push script is a serious odditie !)
– Navigate the Arrangement with markers.
– Control the loop and punch in/out section.
– Control the draw mode.
– Control the « follow playback ».
– For some reasons it also makes recording audio, midi and automations in Arrangement problem free (lots of people seems to encounter some problems with this when using the default Push script.)
– Plus, you can also map some of these functions to your computer keyboard or to an other midi device.
You enter ArrangeMode with the SHIFT+SESSION buttons combination. Pressing only SESSION will bo to the default session view/mode.
Get it Push-ArrangeMode M4L device