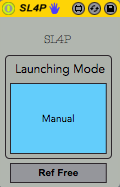 SL4P is Session Looper for Push.
With SL4P you can do synchronized live looping in clips without any boring metronome or quantifcation.
It's just a looper, except that all layers are recorded into separate clips, and that is fucking cool. You can also use metronome/ global quantification if you want, SL4P would still offers you nice things.
Put SL4P on your master track. Enter SL4P by pressing Select plus Session.
If the tap tempo, new, fixed length, quantize, double and metronome buttons lose their light, you're good, you've just entered SL4P !
When playing, buttons give you visual informations on what's going on.
The New button is used to create a clip with a free length. You have to start and stop the recording. It's like your first layer in a traditional looper. You can also use the rec button, or a clip slot, just like in Push's default mode. This will define your « reference length », or « reference clip ».
The fixed length button is used to record a clip with the same length as your « reference clip ».
The double button will record a clip 2 times longer than your « reference clip ».
The quantize button will record a clip 2 times shorter than your « reference clip ».
By default your « reference length » is the length of the last selected clip.
The tap tempo button is used to lock the « reference length », when you want.  When you are in lock mode, the tap tempo blinks.
IF YOU DON'T USE THE LOCK FUNCTION, THE REFERENCE CLIP IS THE LAST SELECTED CLIP. IT MEANS, FOR EXAMPLE,  THAT IF YOU RECORD EVERY LOOP WITH THE QUANTIZE BUTTON, EACH LOOP WILL BE HALF THE LENGTH OF THE PREVIOUS ONE, AND SO ON…
SL4P has 2 main triggering modes : the « manual mode » where you launch the recording with the previously explain buttons. The « footual mode » where you first select a length on Push, and then launch the recording with a tap on your foot pedal plugged into Push's input number 2.
You can switch these 2 modes with the metronome button. The button blinks when you are in « footual » mode.
If you need to access the default function of the buttons used by SLAP, just press the Select button and you'll have momentary access to them. You can, of course, switch between SLAP and normal session mode with the select + session buttons combination.
I recommend to use SL4P with, at least, Ableton Live 9.1 with the latest Push firmware. With previous versions you won't be able to use the foot pedal functionality.
Grab SL4P here with Gumroad (it is secured by the platform, I don't have access to your payment informations, you order on Gumroad, they deliver you the device), for the half-Evil price of 3.33 € or more if you want.
Get it SL4P 1.0 M4L device
Or contact me if you prefer paypal.