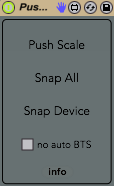 Many of my M4L patches have a common goal: implementing some of Live's missing features. This time I didn't really do anything though, as the core of this device is the ClyphX remote script by Stray. My patch simply triggers some ClyphX actions. It means that you need to have it properly installed for my device to work. See here http://beatwise.proboards.com/thread/992/current-version-clyphx-live-8
Push Snap'n Scale adds 2 features to Push:
1- Storing scales in clips. It means you can use a different scale for every clip in the same Live Set.
2- Taking and storing snapshots of one or every devices of the current track in clips.
There's an info button on the device, so click it and it will tell you what you need to know.
Download the device Download
Cheers.